Another Woman's Husband
by
Gill Paul
BLOG TOUR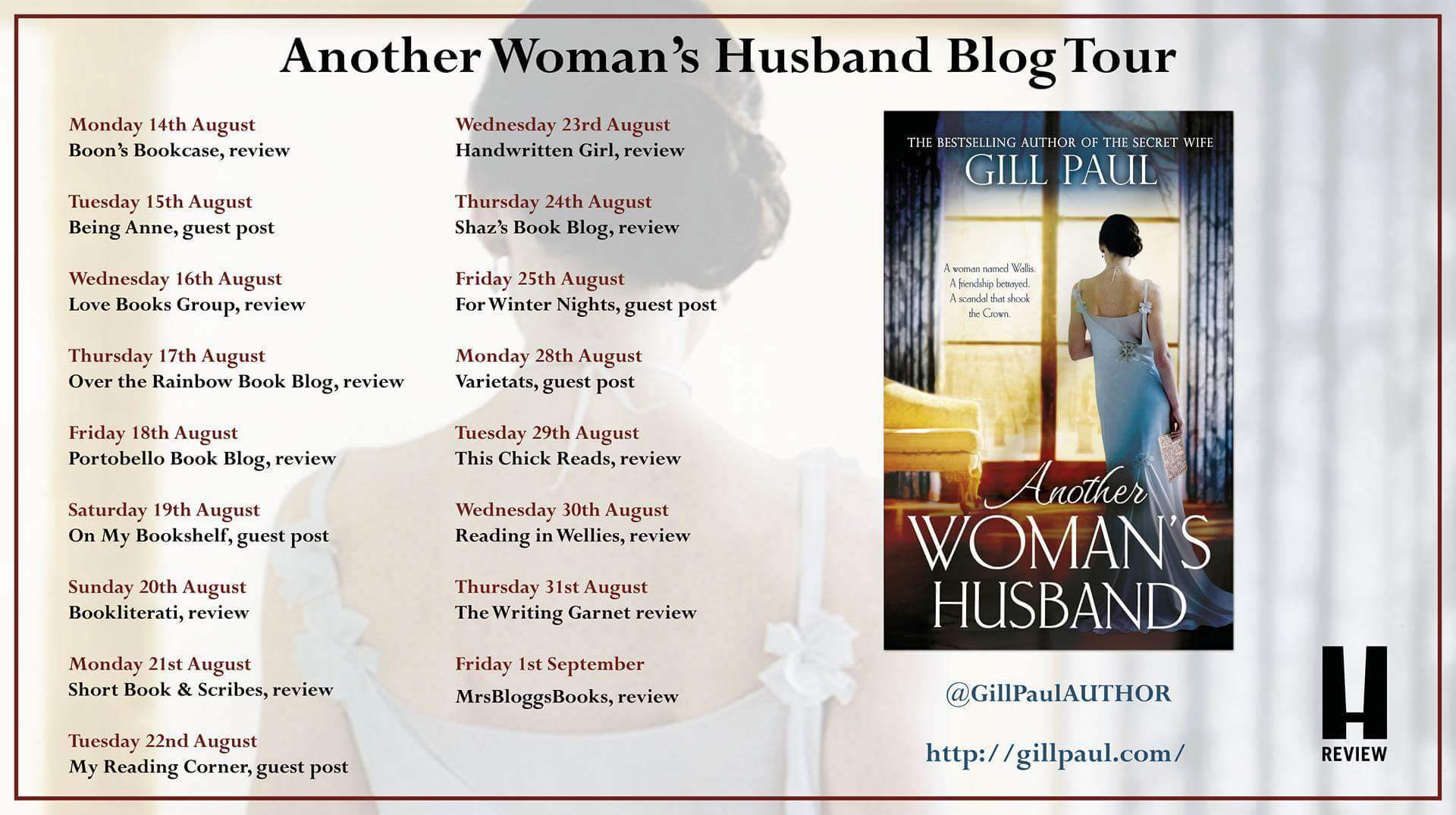 1911 At the age of fifteen, carefree Mary Kirk and indomitable Wallis Warfield meet at summer camp. Their friendship will survive heartbreaks, separation and the demands of the British Crown until it is shattered by one unforgivable betrayal.

1997 Rachel's romantic break in Paris with her fiancé ends in tragedy when the car ahead crashes. Inside was Princess Diana. Back in Brighton, Rachel is haunted by the accident, and intrigued to learn the princess had visited the last home of Wallis, Duchess of Windsor, only hours before the crash. Soon, the discovery of a long-forgotten link to Wallis Simpson leads Rachel to the truth behind a scandal that shook the world...
Richly imagined and beautifully written, ANOTHER WOMAN'S HUSBAND is a gripping, moving novel about two women thrust into the spotlight, followed by scandal, touched by loss.
Review
It's no secret that I am a huge fan of Gill Paul's novels, so when I found out that her latest novel, Another Woman's Husband was based on the fictional connection between Wallis Simpson and Princess Diana, I just knew I would love this book! I am a passionate royalist and always loved Princess Diana from the very moment she came into the public eye. With the 20th anniversary approaching of Diana's death, it seems very poignant that memories of her are kept alive. I will remember 31st August 1997 for the rest of my life as a day full of extreme sadness and unbelievable shock that one of the most famous women in the world had died so tragically.
Mary and Wallis meet at Summer camp in America in the early 1900's when they were teenagers. From the very start, Wallis is the more dominant, confident character, with Mary tagging along in awe of her new found friend. Wallis seems very headstrong and mature for her age, especially in front of the young men!
Meanwhile Rachel and Alex are driving through the Alma tunnel in Paris on 31st August 1997 when just ahead there is an almighty crash and everything is at a standstill. Alex gets out of the car to see what has happened and returns shortly afterwards with a look of total shock on his face when he tells Rachel that the crash involves Princess Diana and she is in a bad way.
The chapters alternate from Wallis and Mary's early lives to 1997 in the aftermath of the crash and the coming weeks when the press is full of conspiracy theories as to how and why Diana died. How could Wallis & Mary's lives have anything in common with Diana?
This is a fantastic story which made me want to read "just one more chapter" so that I could find out what the connection was! The author is such a great historian, who researches her books wonderfully and this one is no exception. I have enjoyed all of Gill Paul's books, but I really think this is my favourite so far!
To order a copy of Another Woman's Husband click here